Regular price
Sale price
£28.00 GBP
Unit price
per
Sale
Sold out
Product Description


Healing : Soothing : Repairing

After spending many long hours working away in the meadow, we've formulated a hand lotion to specifically target concerns of garden lovers! From dry flaking nails, scratched fingers, chapped knuckles and blistered palms, we've got you covered! This hand lotion is deeply moisturising and protecting due to the inclusion of honesty oil and beeswax, soothing irritation and healing the skin as a result of the amazing complex of botanicals it contains (selfheal, chickweed, dandelion, plantain, chamomile and yarrow).

This product is Certified Wildlife Friendly as the ingredients have been grown in our wildflower meadows which are created first and foremost for nature conservation.

200ml

More info

Containing soothing peppermint, restorative nettle, and antimicrobial yarrow distilled by us on the farm, along with a powerful meadow grown botanical complex (comprising healing selfheal, nourishing plantain, anti-inflammatory chickweed, regenerating dandelion, soothing chamomile and nourishing yarrow), combined with ultra-moisturising honesty oil and protecting beeswax. This hand lotion will benefit anyone whose hands need a little bit of natural tlc, from drivers and dog walkers to dinner ladies and doctors/nurses! . As we use cold processes to make our lotions we ensure that the botanical compounds which we so carefully grow and extract, do not get harmed as our lotions are made.
How to use

Apply to clean dry hands.
Ingredients

Botanical glycerite - made from hand-picked meadow-grown chickweed, plantain and self-heal which have soothing, healing and nourishing properties, these botanicals are gently dried before being infused in the humectant glycerine.

Nettle Hydrosol - made from handpicked young nettle leaves, distilled in small batches in our workshop. Distilled nettle has an earthy unmistakably 'nettle-like' scent and is naturally hydrating, toning, stimulating and astringent.

Peppermint Hydrosol – made from meadow grown peppermint leaves, picked at the height of summer for optimum 'mintiness'! This hydrosol has a fresh uplifting scent and is makes an excellent addition to this hand wash, being antibacterial, soothing, cooling and calming (of both allergic skin reactions and insect bites).

Lunaria (honesty) oil – the violet flowered honesty plant requires very limited treatment during its growing cycle, meaning that it has a low environmental impact. Even better the crop has been recognised by the Royal Horticultural society as being hugely beneficial to local insect populations, thus having a positive impact on the local pollinators. When it comes to skincare, the oil of this amazing plant is an effective natural moisturiser, improving skin hydration and barrier function as a result of the super long chain fatty acids.

Beeswax – when we started Seilich, we wanted to produce products that we're 100% vegan, however we also wanted to make products using locally sourced ingredients. When it came to sourcing a wax for our hand lotion it very quickly became obvious that is was impossible to find a botanical wax that was sourced in the UK, whereas a very lovely local bee keeper had an abundance of beeswax we could use. It was at this point that we realised we'd have to prioritise our priorities! Using locally produced ingredients is so important to us; it ensures our products have a low carbon footprint and are fresh and produced to the highest standards… and it just so happens that beeswax is an amazing addition to skincare, being lubricating and softening, reducing water loss from the upper layers of the skin, moisturizing and protecting. In addition, it is anti-bacterial and anti-inflammatory and high in vitamin A.

Other ingredients: Peppermint hydrosol, Nettle hydrosol, Yarrow hydrosol, honesty oil, Chickweed extract, Dandelion extract, Plantain extract, Chamomile extract, Yarrow extract, Vitamin E, Glycerine, Self heal extract, Potassium sorbate, Saccharide Isomerate plus, Dermosoft 1388, Xanthan Gum

View full details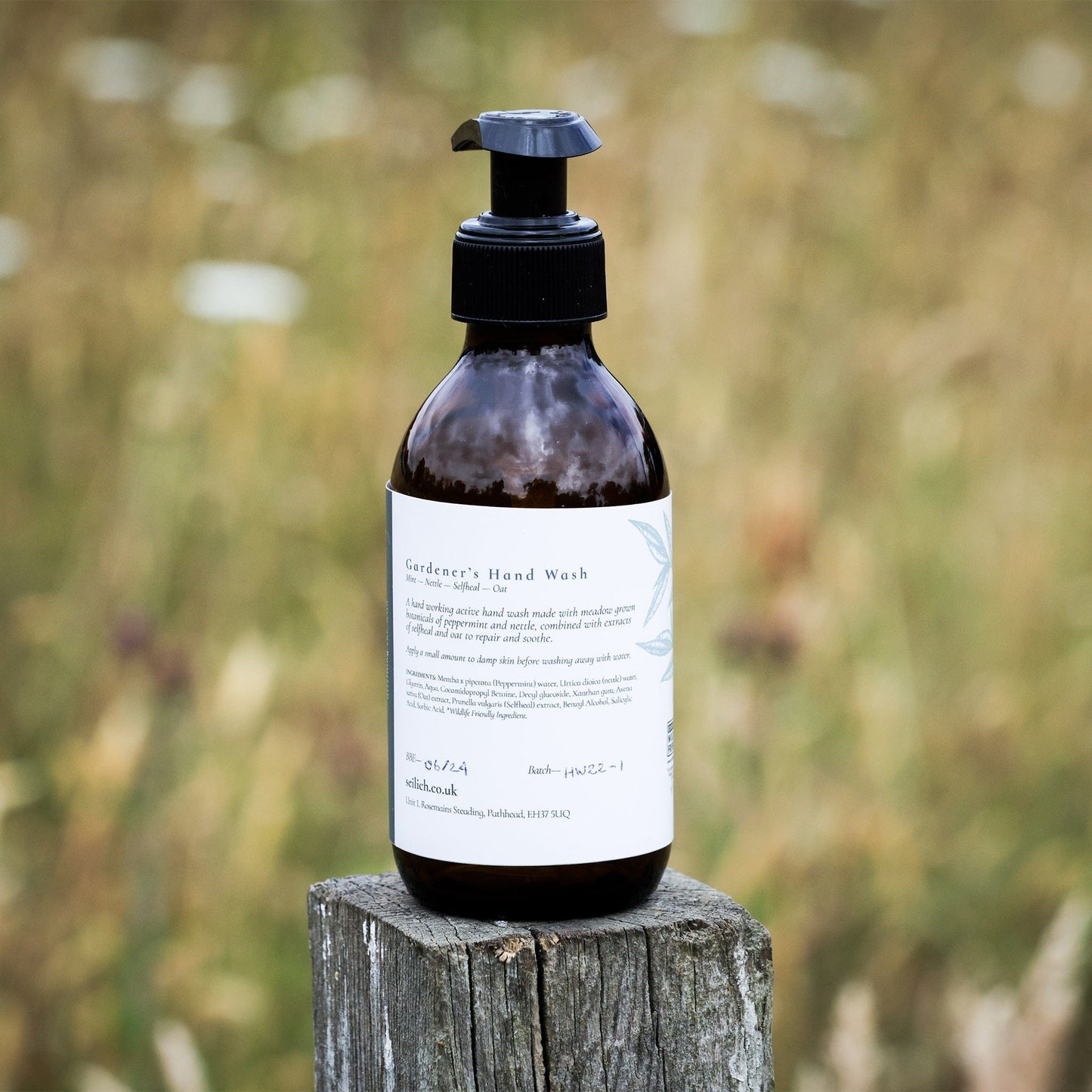 Why choose meadow grown skincare?
Wildlife Friendly

We are very proud to be the first company to have received a Wildlife Friendly certification in the UK across our whole product range.

Made Sustainably

Our products are organic, sourced in the UK, low carbon and we have an average sustainability score of 9 values and above.

Recyclable Packaging

All our packaging is recyclable with the exception of pump tops - keep hold of them and reuse on your next purchase.

Circular Growth

We are passionate about reinvesting as we grow - the more botanical products we can sell, the more meadows we create to produce them.