Regular price
Sale price
£52.00 GBP
Unit price
per
Sale
Sold out
Product Description

Certified Wildlife Friendly Botanical Skin Care

An award winning luxurious face oil, made from a carefully curated selection of UK grown/pressed botanical oils, infused with powerful meadow grown botanicals to deeply nourish the skin.

Rejuvenating : Moisturising : Repairing

* Winner Editors Choice Award (Beauty Shortlist 2022)
* Winner Eco-lifestyle Editors Choice Award (Beauty Shortlist 2022)

Made from a carefully curated selection of UK grown/pressed botanical oils including hazelnut, raspberry, blackcurrant, borage and arvensis, to ensure a balanced profile of omega 3, 6 and 9 that deeply penetrate the skin whilst improving its outer-most barrier. These oils are infused with powerful meadow-grown hand-picked botanicals including daisy's, plantain, calendula, rose petals and red clover.

This product is Certified Wildlife Friendly as the ingredients have been grown in our wildflower meadows which are created first and foremost for nature conservation.

30ml
More info

This magical blend of oils is infused with meadow-grown hand-picked botanicals selected for their individual properties; firming and toning daisies, rejuvenating and healing plantain, anti-inflammatory and moisturising calendula, regenerating and moisturising rose petals and nourishing and collagen-boosting red clover. The meadow botanicals are infused in the oil for around 4 weeks to extract as much of their magical properties as possible. During this time, the rose petals in particular impart a beautiful fragrance to the oil.
How to use


All skin types (particularly normal, dry, mature and/or problem skin)

Directions for use: After cleansing, toning and moisturising, apply a small amount of oil to the face and neck, and massage into skin. Note, in the case where other brand (i.e. non-Seilich) moisturisers are being used, check whether your product contains large amounts of emollients (products that form a layer that effectively seals the skin e.g. Shea butter, Cocoa butter, Mineral oil, Lanolin, Petrolatum, Paraffin, Beeswax, Squalene, or Coconut, jojoba, sesame or almond oils). In these cases, use the face oil first before the moisturiser, otherwise your oil will simply sit on top of the emollients and won't be able to penetrate the skin.
Ingredients

Arvensis oil – grown in the UK, the oil of Buglossoides arvensis has a unique lipid profile having being found to have the most potent combined source of essential fatty acid gamma linolenic acid and omega 3 stearidonic acid, which together increase skin hydration, firmness and elasticity whilst helping to reduce skin inflammation and wrinkles.

Raspberry seed oil – at Seilich we first came across raspberry seed oil when we were looking for an alternative to rosehip oil (frustratingly despite all the rose hips that fill our hedgerows here in the UK every autumn, most rosehip oil is imported from South America). To keep our carbon footprint down we use raspberry seed oil instead, which is pressed in the UK from seeds (a by product of the jam making industry). Being high in vitamins A and E as well as the essential fatty acid linoleic acid which is anti-inflammatory and helps with skin cell regeneration, it is a perfect replacement for rosehip oil. In addition, the phytosterols present in this promote new collagen production for younger skin.

Hazelnut oil – sourced from a lovely hazelnut farm in Kent, hazelnut oil is sebum balancing but also moisturizing and is quickly absorbed by skin. It promotes elasticity and skin cell regeneration while stimulating circulation for a glowing complexion.

Other ingredients: Arvensis oil, Blackcurrent seed oil, Borage Oil, Hazlenut oil (infused with daisy, plantain, calendula, rose and red clover), Raspberry seed oil, Rose extract, Vitamin E
View full details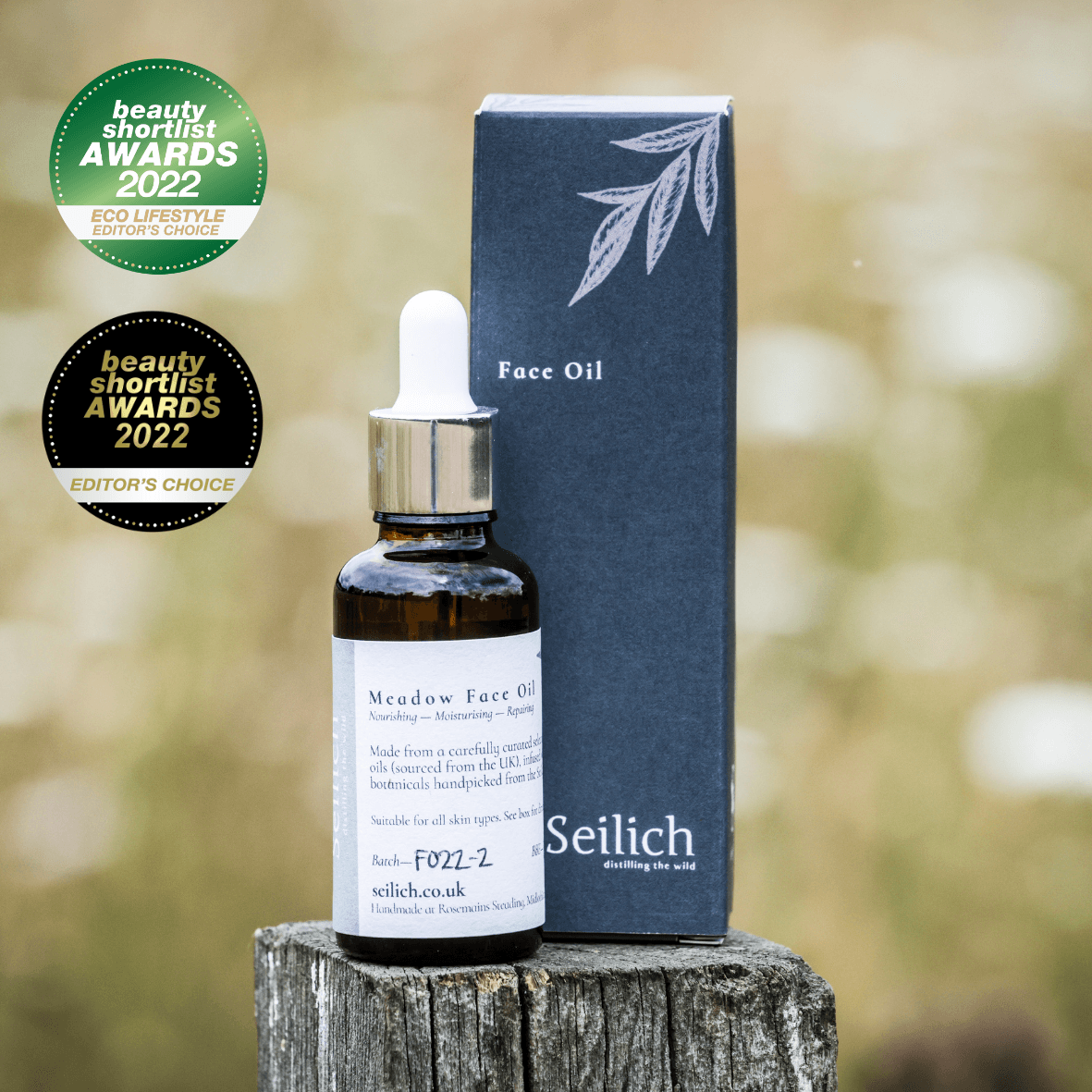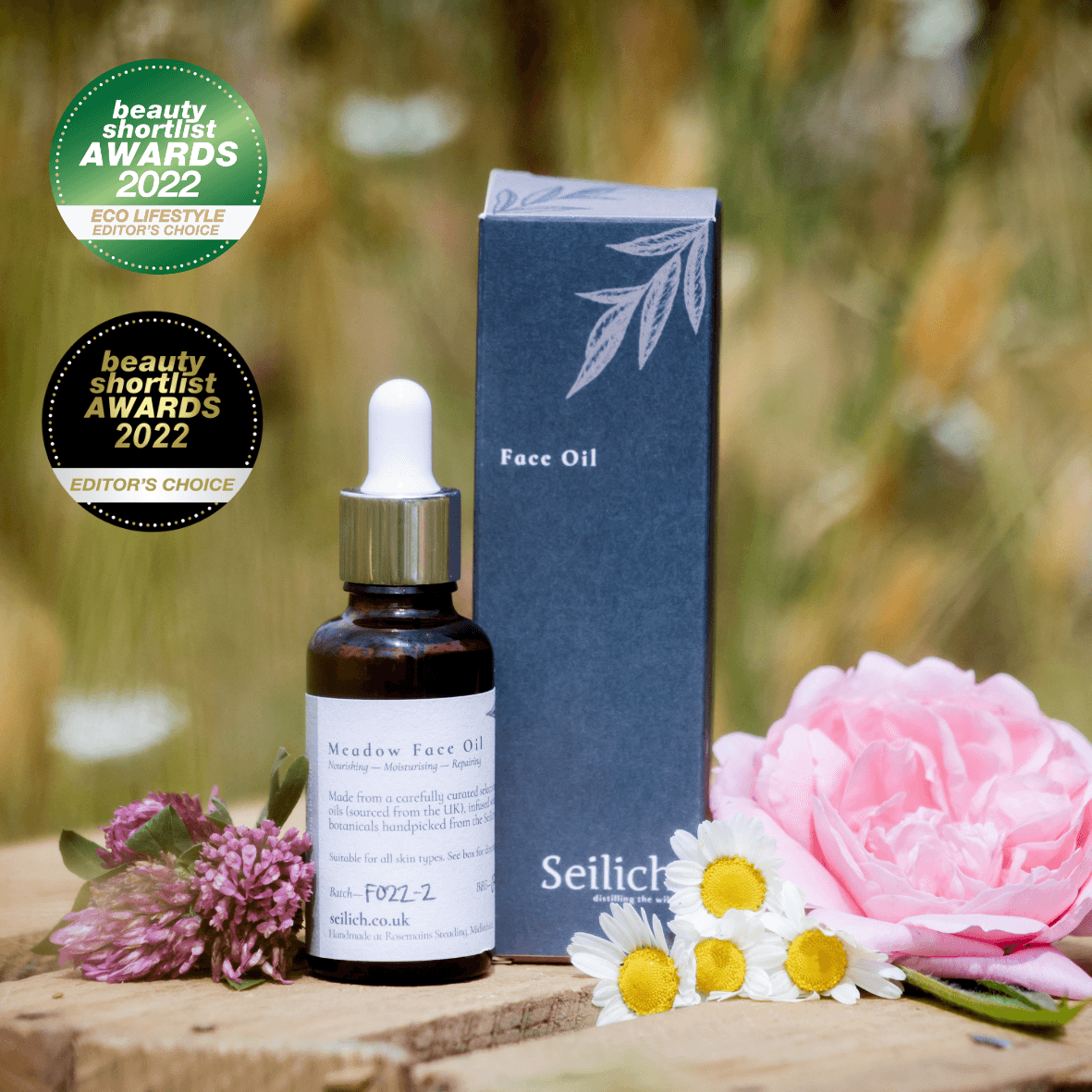 Why choose meadow grown skincare?
Wildlife Friendly

We are very proud to be the first company to have received a Wildlife Friendly certification in the UK across our whole product range.

Made Sustainably

Our products are organic, sourced in the UK, low carbon and we have an average sustainability score of 9 values and above.

Recyclable Packaging

All our packaging is recyclable with the exception of pump tops - keep hold of them and reuse on your next purchase.

Circular Growth

We are passionate about reinvesting as we grow - the more botanical products we can sell, the more meadows we create to produce them.