Regular price
Sale price
£26.00 GBP
Unit price
per
Sale
Sold out
Product Description

A highly effective and refreshing hand wash made from meadow grown nettle and peppermint combined with exfoliating botanical grains to clean and soothe garden weary hands!

Cleaning : Exfoliating : Invigorating

After spending many long hours working away in the meadow, we've formulated a hand wash to specifically target concerns of garden lovers! From dirt encrusted nails, scratched fingers, chapped knuckles and blistered palms, we've got you covered! This hand wash not only removes dirt from the hands, but also soothes and heals the skin as a result of the amazing complex of botanicals it contains. Added to that, we've included a super-hydrating plant based moisturiser and some ground apricot kernels for exfoliating power.

This product is Certified Wildlife Friendly as the ingredients have been grown in our wildflower meadows which are created first and foremost for nature conservation.

200ml
More info

Containing soothing peppermint, restorative nettle, and antimicrobial yarrow distilled by us on the farm, along with a powerful botanical complex comprising healing selfheal, nourishing plantain and anti-inflammatory chickweed all of which are grown by us (by our very own gardeners hands) in the meadow. The ground apricot kernals gently exfoliate the skin to help to remove engrained dirt and dead skin cells, while the botanical complex and added moisturisers help to sooth, calm and heal any unhappy areas. As well as gardeners, this hand wash will benefit anyone whose hands need a little bit of tlc, from drivers and dog walkers to dish washers!
How to use

Suitable for all skin types (particularly very dirty hands!)

Apply to damp skin, massage in to those areas that need extra exfoliation, before washing away.

Ingredients

Nettle Hydrosol - made from handpicked young nettle leaves, distilled in small batches in our workshop. Distilled nettle has an earthy unmistakably 'nettle-like' scent and is naturally hydrating, toning, stimulating and astringent.

Peppermint Hydrosol – made from meadow grown peppermint leaves, picked at the height of summer for optimum 'mintiness'! This hydrosol has a fresh uplifting scent and is makes an excellent addition to this hand lotion, being antibacterial, soothing, cooling and calming (of both allergic skin reactions and insect bites).

Botanical glycerite - made from hand-picked meadow-grown chickweed, plantain and self-heal which have soothing, healing and nourishing properties, these botanicals are gently dried before being infused in the humectant glycerine.

Saccharide isomerate – now although this one sounds a bit scary, it's actually a natural ingredient that's made from nothing more than plant sugars (glucose and fructose). As gardeners hands can often be quite dry after a day covered in mud, its important that hand washes are moisturising as well as cleansing. That's where Saccharide isomerate comes in; it's fairly magical in it's moisturising ability; it's able to pull moisture from the atmosphere, binding it to the keratin layer, where it cannot be washed out.

Other ingredients: Peppermint hydrosol, Nettle hydrosol, Yarrow hydrosol, Apricot kernal, Glycerine, Self heal extract, Plantain extract, Chickweed extract, Yarrow extract, Potassium sorbate, Saccharide Isomerate plus, Dermosoft 1388, Xanthan Gum

View full details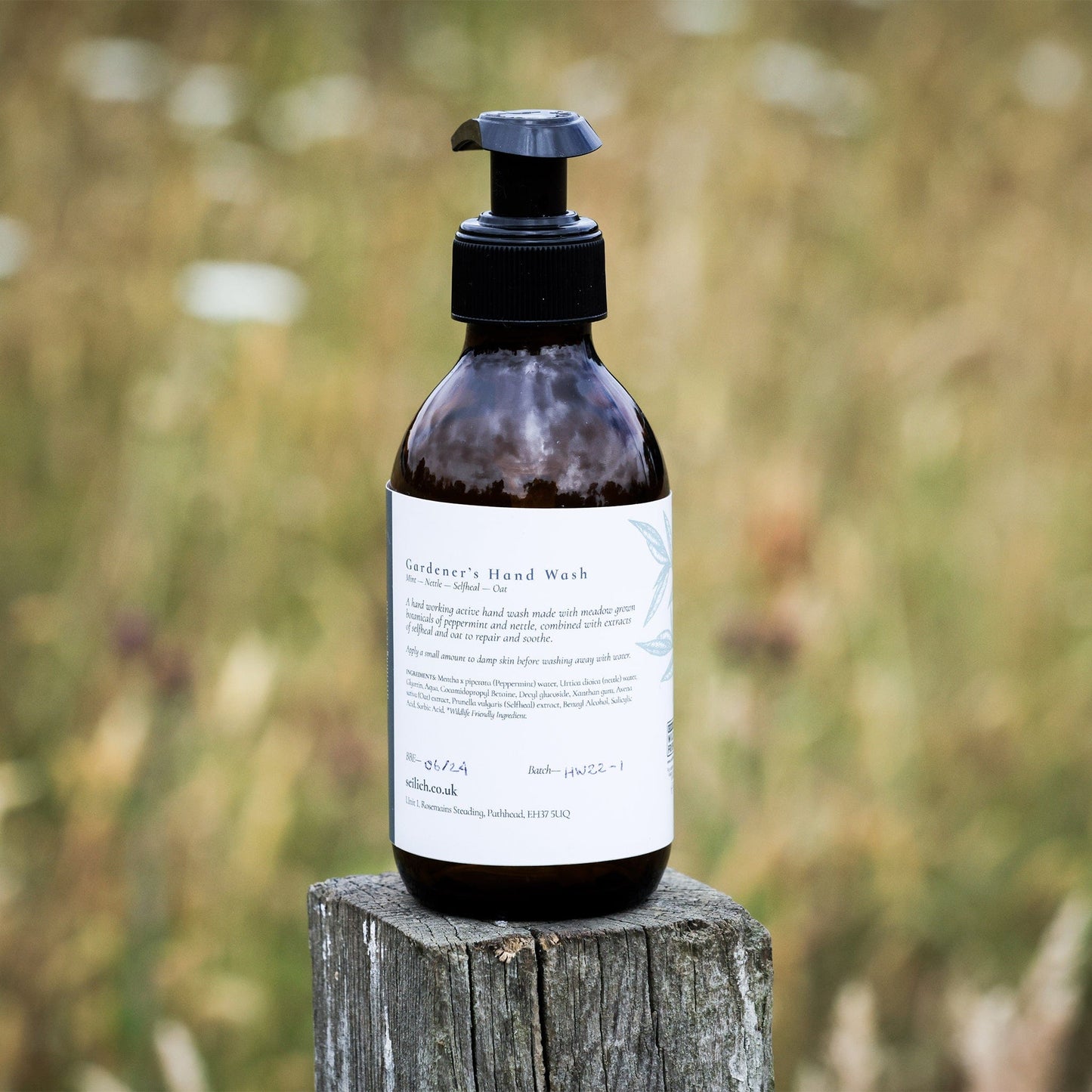 Why choose meadow grown skincare?
Wildlife Friendly

We are very proud to be the first company to have received a Wildlife Friendly certification in the UK across our whole product range.

Made Sustainably

Our products are organic, sourced in the UK, low carbon and we have an average sustainability score of 9 values and above.

Recyclable Packaging

All our packaging is recyclable with the exception of pump tops - keep hold of them and reuse on your next purchase.

Circular Growth

We are passionate about reinvesting as we grow - the more botanical products we can sell, the more meadows we create to produce them.